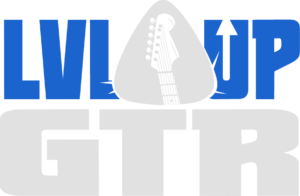 LEVEL UP GUITAR
GUITAR MODES AND SCALES LESSONS
Level Up Guitar (or LVL up GTR), is a subscription based guitar modes and scales course aimed at taking intermediate guitar players to the next level. 
THIS IS NOT A BEGINNER'S COURSE! This course teaches an intermediate student how to use and apply modes and scales on guitar.
For less than the price of one 30 minute in store guitar lesson, you have access to a library of video lessons aimed at addressing common issues intermediate players have.  New videos are updated weekly!
The author, Alex Donaldson, charges students almost $300 a month for private lessons.  You will have unlimited monthly access for $30 a month!
But what separates Level Up Guitar from other online guitar courses?
THE SUCCESS OF ALEX'S STUDENTS
Here is a list of his student's accomplishments:
My students have played in bands signed to EPIC records, JAY Zs ROCNATION, and Red Bull Records
My student's band won BEST TEEN BAND IN AMERICA at the 2011 NAMM show.
My student plays guitar in the massively popular metal

 

band BEARTOOTH
I had a student tour the country in the SCHOOL OF ROCK All Star Band
My students have received hundreds of thousands of dollars in scholarship money to colleges like Berklee.

  

In fact 50% of my students who audition for Berklee have received scholarships.
WHAT YOU NEED TO KNOW BEFORE SIGNING UP
TO LEARN MORE IN-DEPTH GUITAR MODES AND SCALES TECHNIQUES AND BROADEN YOUR SKILLSET SIGN UP TODAY!
What high school and college theory courses get wrong about music theory:
So many musicians get discouraged with music theory because they completed AP Music Theory in high school, or even entire college curriculums and still not know how to apply what they learned with the music they actually like.
This is because high schools and the majority of college music theory focuses on TONAL music.
Popular contemporary music falls into three categories: tonal music, modal music, and blues. Because the student has not had a well rounded education on all three they "give up" on music theory.
HOW MODES ARE INEFFICIENTLY TAUGHT:
First, we are going to focus on is the TONALITY of each mode, or the lightness or darkness of the mode. This is the most important aspect in understanding the true nature of each mode. Most lessons first focus on the order of modes and putting them all together. When the student focuses on this they lose sight of how the mode is actually supposed to sound!
WHY NOT LEARN GUITAR SCALES AND MODES ON YOUTUBE:
YouTube is probably the single biggest resource when learning how to do practically anything in this age! It is a great resource to learn how to play guitar, and we will be using Youtube for backing tracks.
BUT…
YouTube is difficult for learning complex theories because:
1) YouTube incentivizes their content creators to make longer videos so they can fit more ads in the video!  Often times I will be looking up a guitar lesson on youtube and I would feel as if the teacher spent a long time "getting to the point" of the lesson.  I always left feeling most lessons were 10 minutes too long.  It wasn't until I learned this dirty secret that it all made sense.
2)  YouTube lessons are not given in a concise, chronological order.  In order to understand the advanced concepts that strong players need to get to the next level, a certain level of building needs to take place.
3)  You don't know who is teaching you!  Just because someone has a million subscribers does not mean they are effective teachers.  My accomplishments, and more importantly, the accomplishments of my students speak for themselves.
How I was able to teach chord analysis at groove U with success:
I had the opportunity to teach music theory at the music production college Groove U. At Groove U I had a great deal of freedom in teaching music theory. After only one semester my students were able to successfully analyze and improvise over their favorite songs.
(For context, Berklee doesn't even teach modal theory until the last half of the 4th semester and some college don't touch on it at all!)
Like I've mentioned several times before, Level Up Guitar is NOT a beginning guitar modes and scales course! It is aimed at taking intermediate and advanced students to the next level of playing guitar.
The program is split between four levels – A 101 course, LVL 1 intermediate, LVL 2 advanced, and LVL 3 pro.
Before you start the 101 course you should have a few things down. 
(If these are all review for you, that's ok! Try starting at LVL 2 or LVL 3. I would suggest watching the earlier courses to fill in some potential holes in your education.)
Here is what you need to know:
– Barre Chords
– How to read a chord graph/scale graph
– The notes UP the strings
Student Testimonials
Alex is a great tutor! He helped me so much with my music theory. I'm someone who has ZERO musical experience and he was extremely patient with me and was able to explain everything so much easier. I wouldn't use anyone else for my musical tutoring. Either that be Music Theory, Composition, or playing instruments!
-Khloe Churko, Berklee Student
Student Testimonials
Alex's guitar modes and scales course helped take me to a whole other level. The course is very easy to understand and follow along. Best of all, it gets results and is an affordable online guitar lessons option. I highly recommend Alex's online guitar course for anyone wanting to get better.
-Chuck E, Intermediate Guitar Player
Student Testimonials
I cannot say enough good things about this scales and modes guitar course. It's cheap, effective, and the best online course I have found. Alex really nails teaching in a way that is easy to understand.
-Steven Dordis, Electric Guitar Enthusiast
Level Up Guitar
Buying lessons from your local guitar store will cost you anywhere from $100 to $250 a month!  For a fraction of what you pay at these stores, you can choose an instructor and method with proven results. 
• An instructor with music industry accomplishments, as well as accomplishments as an educator.
• A method that has a track record of molding the most successful students around.
• Still have a few questions before signing up? Great,
contact us
to learn more.